Three Polish players still in the game!
29 czerwca, 2017
First round of the 23rd International Women's Tennis Tournament Bella Cup behind us. On Tuesday, Magdalena Fręch qualified for the second round.
In the first round, Fręch faced Akgul Amanmuradova from Uzbekistan. It was their fourth time playing against each other. Winning that match in Bella Cup was the third time Fręch triumphed over Amanmuradova. Even though the result 6:3, 6:1 does not show it, winning in that game did not come easy.
Magdalena Fręch joined two other Polish representatives, who qualified for the second round after their games on Monday. Those were Maja Chwalińska and Daria Kuczer.
Anna Hertel and Stefania Rogozińska-Dzik were not able to follow their steps. Under 18 and under 16 Polish champions placed in the Bella Cup tournament with wild cards. Both left the singles tournament after two sets. Anna Hertel lost with Australian Naikitha Bains 0:6, 2:6. Stefania Rogozińska-Dzik was defeated 3:6, 1:6 by Sara Rebecca Sekulic from Germany.
After the first round of Bella Cup 2017, half of the seeded players left the competition, including number one – Sofia Shapatava (Georgia) and number two – Julia Glushko (Israel). Magdalena Fręch, tournament's number four, is now the only seeded player in her half of the draw. In the second round, she will face Jessica Wacnik, who has got polish roots and speaks Polish very well. Her mother is Polish and a former tennis player.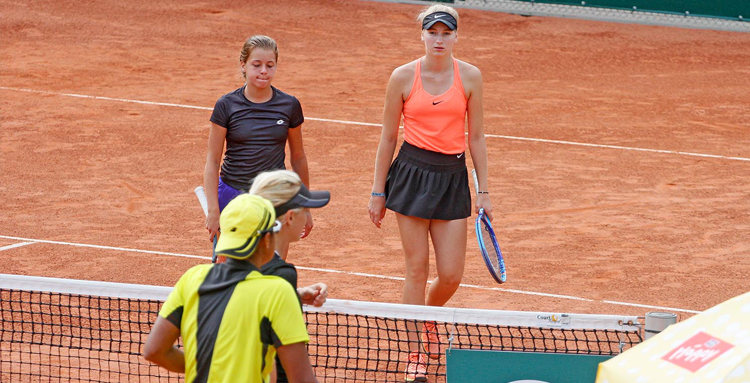 Paulina Czarnik and Daria Kuczer triumphed in the doubles game of two Polish teams. They defeated Weronika Falkowska and Paulina Jastrzębska 7:5, 4:6, 10:5.

Maja Chwalińska and Anna Hertel in just over an hour won over Akgul Amanmuradova from Uzbekistan and Veronika Kapshay from Ukraine 6:2, 6:3. Doubles quarterfinals will take place on Thursday.