Kawa withdraws, Fręch in the quarter-final, rain stops the last match!
1 lipca, 2016
Thursday started with the news, that Katarzyna Kawa is withdrawing from the tournament.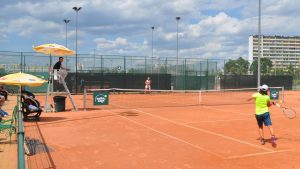 Polish player, seeded number 8, who was supposed to play on the main court against Magdalena Fręch, had to leave the competition due to the medical issues. As a result, Fręch is the first polish representative to qualify to the quarter-final.
'Great that I qualified to the next round, but I regret not being able to play. I also feel sorry for Kasia.' – said Magdalena, number 463 on the WTA ranking list. In the afternoon all eyes were set on the main court. The youngest Bella Cup contestant, 14-year-old Maja Chwalińska from Dąbrowa Górnicza, joined the second round. After an align set, she lost 4:6, but in the second one she only gave up one game to the opponent. In the final duel, with 4:2 for Pentyckova and 30:15 for Chwalińska, match had to be suspended because of the heavy rain. They will continue on Friday. Players seeded with the highest numbers easily went through to the next round. Representing Bulgaria Isabella Shinikowa (seeded number 1) won with Vivien Juhaszova from Slovakia 6:0 6:4. Czech Tereza Smitkova (seeded number 2) beat USA representative Ashley Lahey 4:6 6:2 6:0.
On the fifth day of Bella Cup tournament, we also found out who will play in the doubles half-finals. Justyna Jagiołka, paired up with Ukrainian Valeiya Strakhova, beat Belarus representatives Darya Chernetsowa and Sadafmoh Tolibova after an amazing 'super
tie-break'. Polish-Ukrainian duo won the match 7:5 4:6 10:5. We won't be seeing Magdalena Fręch and Ukrainian Anastaiya Shoshyna. They lost the match 6:3 6:4 against Czech duo Lenka Kuncikova and Karolina Stuchla. Rest of the players qualified to the half-final: Irina Maria Bara (Romania)/ Vaeriya Savinykh (Russia) and Akgul Amanmuradova (Uzbekistan)/ Valentyna Ivakhnenko (Russia). On Friday, on the Bella Cup courts in Toruń, we are going to see singles quarter-finals and doubles half-finals. Games start at 11 o'clock.