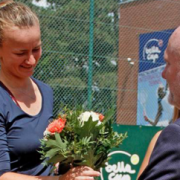 Czech player was the first in the Bella Cup history, to win the tournament on courts in Toruń for the second time.



In the singles' final match of the 24th International Women's Tennis Tournament Bella Cup 2018, seeded number 1 Czech player Barbora Krejcikova played against the tournaments' number 6, Rebecca Sramkova from Slovakia. Slovak player had a very strong beginning and was leading 3:0. Slight rain came down, but fortunately there was no need to stop the match. Situation on the central court however, changed dramatically. Krejcikova started to play stronger and she begun to make up for the losses. She went ahead of the rival after breaking her serve in the 11th game and made use of her great play in the next one, winning the set 7:5. Second set was not only about a beautiful tennis, but mostly clearly visible psychological game. Czech player was correcting her throw when serving several times, explain it with strong wind, which frustrated the second contender. Sramkova won only first game in that match and the other 6 was taken by Krejcikova, who won the Bella Cup final match 7:5, 6:1. It was her second win on the Torun's courts, after defeating Greek Maria Sakkari in the 2014 finale.
My rival started the match really strong, but fortunately I have found my aim and thanks to that I was able to get back on the game in the very last moment. In the second set, I dominated Rebecca psychologically. I am very happy, that I was able to win in Toruń for the second time, as this is one of my favourite tournaments. With such amazing organization, it should set the standards for others. I hope I will be able to come back next year. Even if the tournament's rank will rise, I believe, that the WTA ranking will allow me to do so.
– said Krejcikova after the match.

Bella Cup is the oldest continuously organized women's tennis tournament in Poland. Next year we will experience its 25th anniversary. Because of that, the organizers are already mentioning conversations and preparations to rise the tournament's rank.