Masarova and Sramkova triumphed in the doubles
8 czerwca, 2019
Spanish-Slovakian duo has won the final match of the doubles tournament. We also know the contenders joining the singles finale.
On Saturday, first to step on the court were the players of the single games. In the first semi-final Sloviakia's Rebecca Sramkova faced Romania's Irina Maria Bara. Romanian representative had a stronger start with the break. Later, however, after one of the games, she fell on her wrist and from that moment Sramkova took over the lead. She has won the first set 6:4 and in the second one, at 3:4 Bara retired from the match.

For the second spot in the finale, talented 17 year old from Ukraine, Marta Kostiuk, played againts tournament's "number two", American Allie Kiick. That three set, extremely competitive, lasting 2 hours and 15 minutes match ended with Kostiuk winning 6:7(2), 6:3, 6:4.
– I did not give up after the first set, but I was nervous and I did not show the best side of me. I was disappointed but I was fighting till the very end and I made it.
– said Marta Kostiuk after the match.
The greatest finish of the day at Bella Cup 2019 was the big finale of the doubles. Rebeka Masarowa (Spain) / Rebecca Sramkova (Slovakia) triumphed againts Robin Anderson (USA) and Anhelina Kalinina (Ukraine) after the "tie-break match" 6:4, 3:6, 10:4.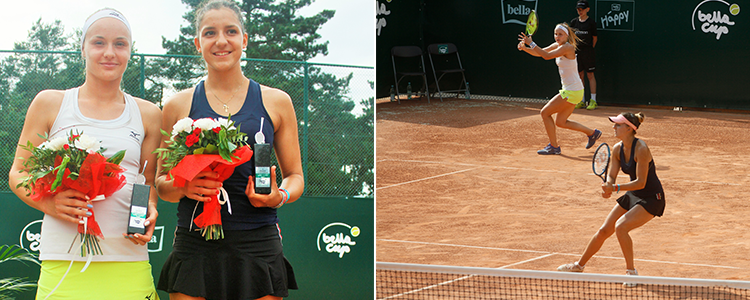 – I am very happy with today's victory. I have not played in such a big tournament in a long time due to an injury. Getting to the top in the doubles, despite losing in singles, is a great feeling.
– said Rebeka Masarova.
Final match of the 25th Women's Tennis Tournament Bella Cup 2019 single will begin on Sunday at 10 am.