The best duo of Bella Cup 2016
3 lipca, 2016
The best duo of Bella Cup 2016 doubles is Irina Maria Bara from Romania paired with Valeria Savinykh from Russia. On Sunday Bulgaria and Slovakia representatives will face each other in the singles finale!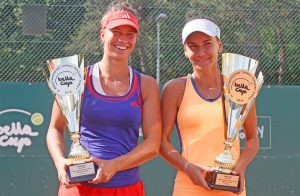 First singles half-final showed us, that Isabella Shinikova has the biggest chance of winning the whole tournament. Bulgarian contestant showed on the court her confidence and strength that brought her a triumph in a match against Irina Maria Bara. Romanian player scared her in the second set, but in the end Shinikova won 6:4 7:5.
Representing Spain, Paula Badosa Giber, started very strong in the second half-final. Contestant,, seeded number 4, faced this year's number 5 – Tadeja Majeric  from Slovenia. Spanish representative won the first set 6:1. In the second one she clearly lost her strength and let Majeric reach 6:3. Badosa Gilbert, after loosing four games, lost the while match it the third set.
On Sunday, in the 22nd International Women Tennis Tournament Bella Cup 2016 singles finale we are going to see Isabella Shinikova [1] and Tadeja Majeric [5]. Match starts at 10 o'clock.
Doubles finale gave us a lot of amazing emotions. Seeded number 3, duo Akgur Amanmuradova (Uzbekistan) and Valentyna Ivakhnenko (Russia,) played against Irina Maria Bara (Romania) paired for the first time with  Valeria Savinykh (Russia). The lower ranked duo started the match stronger. After two servis breaks they were already in the lead with 3:0, and did not stop until they won the whole set 6:3. Also in the second set Bara and Savinykh were clearly in the lead, but after reaching 4:1 they didn't manage to win a single game. In the super tie-brea, leading 4:3,  Amanmuradova and Ivakhnenko made a few simple mistakes. Their opponents did not waste that chance and won 10:7, triumphing in the whole match.