Bella Cup 2017 wild card for Poland
9 czerwca, 2017
Maja Chwalińska received first of the Bella Cup 2017 main tournament wild cards. First list of this year's entries was also released today.
First press conference of the 23 rd International Women's Tennis Tournament Bella Cup took place earlier today. We heard from Jarosław Kuzel – board member of the TZMO S.A., Ireneusz Gronek – vicepresident of KS Start-Wisła Toruń, tournament's director Renata Sokołowska and one of the best polish juniors, Maja Chwalińska with her coach, Paweł Kałuża.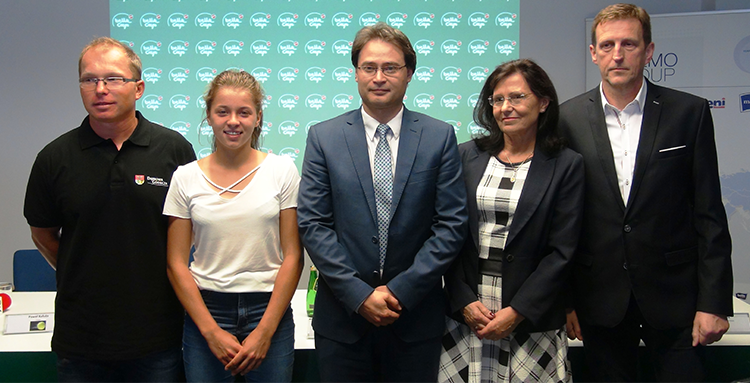 Maja, who debuted in the tournament last year, received the first wild card. She is the current Australian Open Girls' Doubles runner-up.
– I am very happy to be back in Toruń. I have very good memories from last year. It was my first professional tennis game win.
– said Maja Chwalińska.
Today was the official deadline to apply for this year's tournament. Full list of the 2017 entries is available at: www.itftennis.com
Now, contestants have until June 13 th to give their final decision about taking part in 23 rd Bella Cup.
During the press conference, we also heard about the changes happening in MOSiR Tennis Centre in Toruń. 'We have a brand new surface on the central court. It is a huge step on the way to elevate the rank of the tournament. We will be perfectly prepared.' – said Ireneusz Gronek. 'You are all welcome to visit the courts Bella Cup will be taking place on. All five MOSiR Tennis Centre courts.' – added Renata Sokołowska. The 23 rd International Women's Tennis Tournament Bella Cup 2017 will start on June 25 th with qualification games. Main tournament will begin on June 27 th . Final is scheduled for July 2 nd.
– We are extremely excited to host the Bella Cup tournament once again. TZMO S.A. is actively involved in supporting sport events in many countries, but Bella Cup is the biggest one. The one we can be truly proud of.
– Jarosław Kuzel summed up the conference.