Bella Cup 2017 wild cards
24 czerwca, 2017
Polish champions received wild cards to the main Bella Cup tournament.
Daria Kuczer, Anna Hertel and Stefania Rogozińska-Dzik will play in the main tournament. Organizers of the 23rd International Women's Tennis Tournament Bella Cup 2017 decided to give the main tournament wild cards to Polish champions in three different age categories.
Daria Kuczer is a currect Polish Under 23 Champion. She defeated Aleksandra Buczyńska 6:2, 6:3 in the final game in Poznań.
Anna Hertel triumphed in the Polish Under 18 Championship. She won the final game with Julia Oczachowska 7:5, 6:2.
Stefania Rogozińska-Dzik became Polish Under 16 Champion in may. In the final game in Zielona Góra, she defeated Martyna Kubka 6:3, 6:1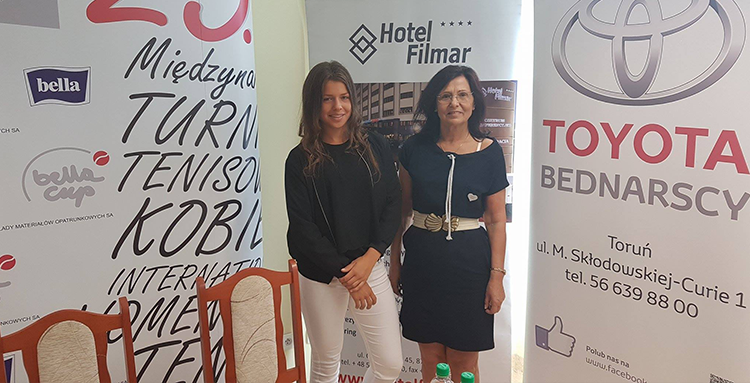 – It was a very wise decision. On that kind of tournament, it is important to promote players who stand out in the main national competitions
– said Rafał Chrzanowski,
PZT girls' coach, guest on the press conference on Thursday.
Organizers also informed about the first decisions regarding the wild cards to the qualification games. They were given to Natalia Komar, Zuzanna Szczepańska and Marcelina Marut.
– Those players are closely linked with the Kuyavian-Pomeranian region. They are members of the local clubs. We want to give them a chance in our tournament.
– added Renata Sokołowska, tournament director.
Qualification game will also be a first step in the Bella Cup tournament for Weronika Falkowska, Radom Tennis Academy 'Masters' player, who recently went all the way to the final of the ITF Great 1 doubles tournament on clay surface courts. Earlier this year, she won singles and doubles games in Magnolia Cup on tennis courts in Szczecin (ITF Great 4).