Half-finals without Poland's representatives
1 lipca, 2016
Only foreign contestants will play for a place in the 22nd International Women Tennis Tournament Bella Cup 2016 finale.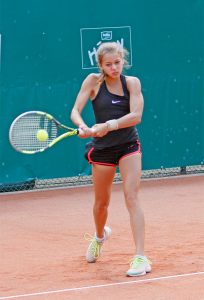 Yesterday's match, suspended due to a heavy rain, was continued today. The youngest Bella Cup contestant, Maja Chwalińska, didn't manage to beat Gabriela Pantuckova in the second round. Czech won 6:4 1:6 6:4.
'It was a tough match. I didn't stand it physically, but I gained a lot of experience thanks to that tournament' – Chwalińska summed up her game.
On Friday it's all about the singles quarter-finals on the courts in Toruń.
The only Polish representative in that round failed to defeat the tournament's number 1 – Bulgarian Isabella Shinikova. Fręch started very well. Confidence on the court helped her win the first set. In the second set Bulgarian representative beat her in the tie-break and in the third one practically crashed Magdalena on the court. Match ended with the score of 4:6 7:6(3) 6:0 for Shinikova.
'It was extremely hot and airless. I stand two sets, but then something broke physically and mentaly. I feel very sorry for it.' – Fręch admitted after the match.
Isabela Shinikova will face Romania representative Irina Maria Bara in the half-final. In the second match for the Bella Cup finale we are going to see Spain Paula Badosa Gilbert, seeded number 4, and representing Slovenia Tadeja Majeric, seeded number 5.
Also in the doubles finale we won't be seeing any Polish players. The last one with a chance for qualification was Justyna Jegiołka paired with Ukrainian Valeriya Strakhova. They lost 1:6 6:3 0:10 with Akgul Amanmuradova (Uzbekistan) and Valentyna Ivakhnenko (Russia). On Saturday the winning duo is going to face the remaining finals' pair: Irina Maria Bara (Romania)/ Valeria Savinykh (Russia).