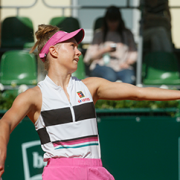 Bella Cup 2019 has gone to the second phase. Eliminations are over and the main tournament has begun.
The day began with the final round of eliminations. Last spots in the main event were filled by the winners of the deciding matches: Daniela Seguel (Chille), Jaimee Fourlis (Australia), Carolina Alves (Brasil), Gabriela Talaba (Romania), Nicoleta-Catalina Dascalu (Romania), Verena Meliss (Italy), Rosa Vicens Mas (Spain) i Nikola Tomanova (Czech Republic).


However, fans were mostly waiting for the first games of the main tournament, especially those with Polish representatives. Stefania Rogozińska-Dzik started off facing Australia's Olivia Rogowska. We saw a series of breaks from both sides of the court. The most importnat was the one in the 10th game. Rogozińska-Dzik gave away only once and won that set 6:4. Second one was filled with excitement. Polish player was leading 4:0 when she started losing her focus. Rogowska won three games, but then the good streak came back to Rogowska-Dzik. She triumphed in the set 6:3, winning the spot in the next round of the tournament.
-It is my life's success. I have never won with a player, who is so high on the ranking. I panicked a little bit in the second round, but I was able to calm myself down and win two last games.
– said Stefania Rogozińska-Dzik right after the match.
Second big treat for Polish fans was the match between Anna Hertel with Anhelina Kalinina on the central court. Unfortunately, she was not able to win with Kalinina. Hertel won only three games in that match. Seeded numer 3, Ukrainian representative triumphed 6:1, 6:2.
We were also able to watch first doubles matches. In one of them two Polish teams faced each other. Julia Oczachowska with Zuzanna Szczepańska have won with Aleksandra Jeleń and Joanna Zawadzka 7:6(4), 4:6, 10:6. Other match gave us a victory of Weronika Falkowska, Martyna Kubka duo over Brasilian-American team Alves – Scholl 1:6, 7:6(4), 10:6.
Tomorrow we will see Katarzyna Kawa, Maja Chwalińska and Paula Kania stepping on the courts in Toruń.